212 Search results for
""natural resources""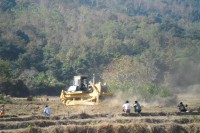 Activists from Arakan State say they hope Burma's incoming government will reevaluate projects that do little to benefit local populations.

A petition campaign led by the RNDP has been launched in Arakan state calling for an equitable distribution of benefits from the region's natural resources.
Yangon Region Hluttaw Representative Committee (CRYH) announces today that township public administration bodies have been formed in all townships in Yangon region except Coco Kyun Township (also known as CoCo[…]
The Violent crackdowns have continued until this noon, and anti-coup protesters rally again peacefully across the country. There have reportedly been wound cases among them 3 people are under critical condition today[…]
"The military-formed union election commission(UEC) attempts to have acknowledgement of their legitimacy from the political parties," said Sai Leik, General Secretary of Shan Nationalities League for Democracy (SNLD), regarding the[…]
The National League for Democracy (NLD) will not attend a meeting hosted by the military-formed Union Election Commission, said the NLD official at a press conference held at the NLD[…]
On Feb 18, Danish ambassador to Myanmar received a letter from Myanmar youth and he stated on its facebook that "these young people have shown up peacefully at the embassy[…]
The five locals, including an eight-month-pregnant mother, were killed during the shelling in the fighting broke out between the Restoration Council of Shan State (RCSS), Shan State Progress Party (SSPP)[…]
17 February 2021 DVB In Yangon downtown, around Sule and Hladan areas, thousands of anti-coup protesters are taking to the streets today afternoon( Feb 17) in even larger demonstrations than[…]
Military government ordered telecommunication companies to temporarily suspend Facebook today in the early hours until February 7 midnight because it assumes Facebook is disturbing the country's stability, according to its[…]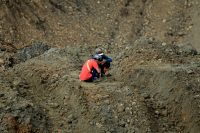 Three years since the jade trade was revealed to be worth 31 billion dollars, questions still abound about what improvements have been made by Aung San Suu Kyi's government to share these revenues.