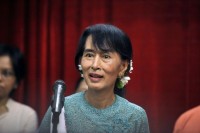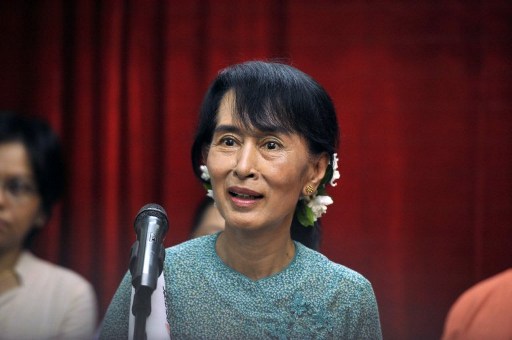 Opposition leader Aung San Suu Kyi is still making the rounds to assess support for Constitutional reform, with plans for a third trip to Mogok in Sagaing Division.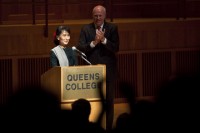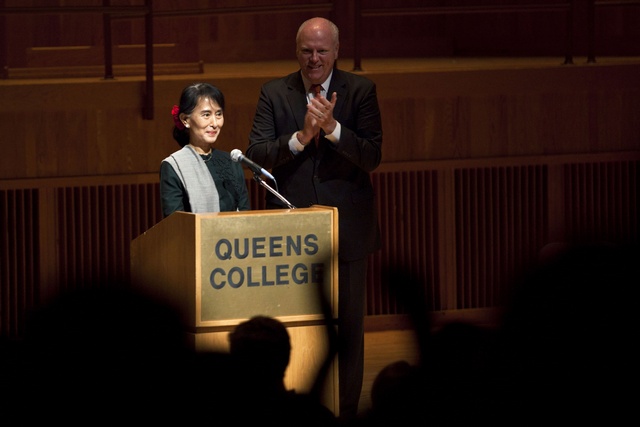 Following Aung San Suu Kyi's recent trip across the US to collect further accolades, the icon continues to attract criticism over her silence concerning the treatment of Burma's persecuted minorities


Aung San Suu Kyi visited polling stations to greet voters on Sunday. The NLD leader is contesting a seat in Rangoon division's Kawhmu township, where support for her is high.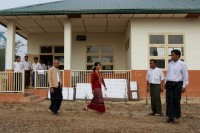 While Aung San Suu Kyi has spent weeks campaigning across the country to jubilant crowds, if the opposition leader is elected how effective can she really be in parliament?

Luc Besson's The Lady will be premiering later this year at the Toronto Film Festival. Leading lady, Aung San Suu Kyi, is played by Michelle Yeoh, and starring opposite her[…]
Opposition icon is released after seven years under house arrest and is currently addressing crowds from behind the gate of her compound in Rangoon

Inside the dilapidated lakeside mansion where Aung San Suu Kyi has been held a prisoner of the Burmese regime for nearly 15 years, the Burmese opposition icon will today celebrate[…]
*UPDATES ARE IN BURMESE TIME* 17.30: The lawyer of US citizen John William Yettaw has been named as Khin Maung Oo. Yettaw began the first day of his hearing at[…]
Mar 20, 2009 (DVB), The mother-in-law of imprisoned opposition leader Aung San Suu Kyi died at her house in London earlier this week from natural causes, according to a family[…]
Mar 18, 2009 (DVB), The lawyer of detained opposition leader Aung San Suu Kyi has sent a second letter to the government demanding a response to an appeal for her[…]
Committee Representing Pyidaungsu Hluttaw (CRPH), acting of Myanmar union parliament formed by elected lawmakers, mostly from the NLD issued an announced on Mar.5 its 4 political objective that to end[…]
Police and military personnel used tear gas to crack down on the protesters in Kyun Taw Road, Sanchaung Township, Yangon this morning, at least 10 people were arrested and protesters'[…]
The hundreds of people waiting in front of Yangon Insein Prison this morning for the release of their families and friends who have been brutally arrested during the anti-coup demonstrations[…]
The National League for Democracy (NLD) will not attend a meeting hosted by the military-formed Union Election Commission, said the NLD official at a press conference held at the NLD[…]
20-year-old, Mya Thwe Thwe Khaing, was passed away today(Feb 19) and became the first protester to die in the anti-coup protests in Myanmar, after she was shot in the head[…]
17 February 2021 DVB In Yangon downtown, around Sule and Hladan areas, thousands of anti-coup protesters are taking to the streets today afternoon( Feb 17) in even larger demonstrations than[…]
In MyaungMya, Irrawaddy region, today 16 Feb, police disperse violently by using water cannon spraying including firing tear gas and rubber bullets to more than 30 thousand anti-coup protesters who[…]
The KNU-Karen National Union, one of the largest ethnic armed political organizations, released a statement on Feb 14 concerning the Myanmar military coup. The statement expressed it condemned the military[…]
The military-run Ministry of Information issued Feb11 a statement letter to the Myanmar Press Council that not to press the term of usage "Coup Government". The statement expressed the media[…]
Without giving any reasons, two unknown civilians tried to violently arrest Ko Zaw Thurein Tun, chairman of the Sagaing Division Computer Professionals Association, at the infront of his home, and[…]
More than 80 detained protesters, arrested in yesterday's anti-coup demonstration in Mandalay were released this afternoon (Feb 10). Military-run media has described in its news release on Feb 9 "about[…]
The internet Wifi and Mobile data services which have also been disrupted on 6 Feb resumed in the late afternoon of 7 Feb, and Facebook, Twitter and Instagram service are[…]
Daw Thet Thet Khine, the chair of The People's Pioneer Party (PPP) has been appointed by the State Administrative Council as the Union Minister for Social Welfare, Relief and Resettlement,[…]
The military coup is a firm step on the path to democracy that fits the real situation of Myanmar, remarked Senior General Min Aung Hlaing at the first meeting of[…]
Some detained Chief Ministers of State and Region including Magway, Mon, Yangon, Shan, Bago, Mandalay, Kayin (Karen), Tanintharyi and Sagaing were released and placed under house arrest. The National[…]
Myanmar military seizes power in apparent coup, detaining Daw Aung San Suu Kyi and other politicians including presidents U Win Myint, NLD's parties senior members, 88 generation students activists and[…]
As of 8 PM, 25 Jan, a total of 17,924 samples were tested and found more 383 new cases and 7 deaths. MoHS has reported 137,957 of total confirmed cases[…]