Burma's opposition leader, Aung San Suu Kyi, launched the Suu Foundation on Sunday, together with Malaysian actress Michelle Yeoh.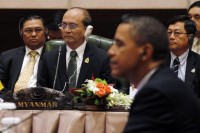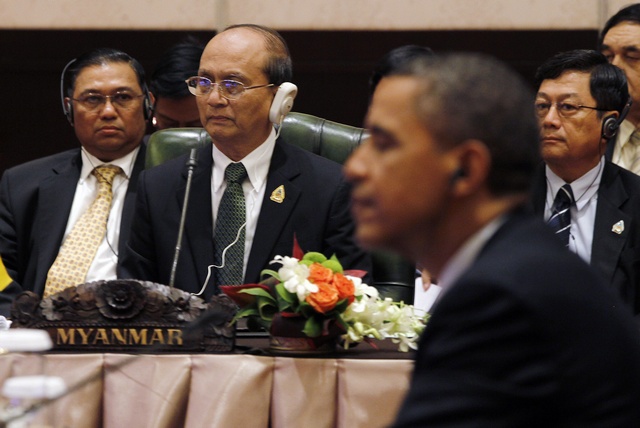 The US$1.1 trillion spending package that US President Barack Obama signed into law on Friday contains new restrictions on assistance to Burma.

Bill and Hillary Clinton's daughter, Chelsea Clinton with the Director of P&G's Children's Safe Drinking Water Programme, Dr Greg Allgood visit Gway Dauk Chaung village in Panthein township, to mark[…]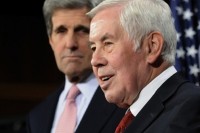 A US Senator has called on Burmese President Thein Sein 'to demonstrate transparency' over suspicious cargo seized in Japan that allegedly contained nuclear material from North Korea on its way to Burma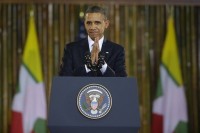 President Obama pledged to support Burma's nascent reform period but called on the country's citizens to push for national reconciliation after decades of civil war and military rule.

President Obama and Secretary of State Hillary Clinton met Aung San Suu Kyi at her house. The President said, "Today marks a new chapter between the United States and Burma".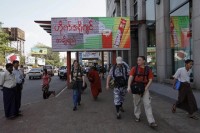 An influx of diplomatic and business delegations is threatening the sustainability of Burma's tourism industry by shooting up prices and squeezing out budget travellers
Officials acting on orders of head monk in Burma agree to reopen revered monastery that sheltered hundreds in the September 2007 uprising
Thein Sein's denial of a nuclear relationship with North Korea is evasive, and done merely to appease the US. It's highly likely that Pyongyang continues to supply its ally with arms and know-how
Tomas Quintana arrives in Rangoon tonight and will raise the need for further aid to 70,000 Kachin displaced by ongoing fighting
Political reforms in Burma prompt retreat over support from Britain, US and others for inquiry into crimes committed by Burmese regime
Ashin Pyinya Thiha given until 19 February to leave his Rangoon monastery after government grows uneasy about his political influence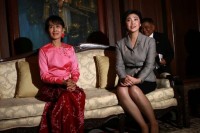 [scrollGallery id=9] The past two months have seen a flurry of VIPs arrive in Burma, from US Secretary of State Hillary Clinton in December to British Foreign Secretary William Hague[…]
US envoy Derek Mitchell in Burma to assess developments since Hillary Clinton's visit last month as IMF delegation arrives
Following British Foreign Secretary William Hague's visit to Burma last week, speculation is centering on the possibility that 2012 could be the year in which European sanctions are eased, or[…]
Koichiro Gemba, the first Japanese foreign minister to visit Burma since 2002, met President Thein Sein and his counterpart Wunna Maung Lwin in the country's remote capital of Naypyidaw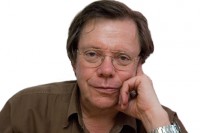 Footage of thousands of North Korean's hysterically mourning the death of Kim Jong Il has now gone viral, suggesting that the passing of one of the world's most notorious tyrants[…]
Karen commander says Suu Kyi 'has to speak for Burma as a whole, including the ethnic groups' if she wants to lead country
Report sobers rosy assessments of Burma's reforms by claiming democracy remains out of reach until journalists are freed
International lenders get the nod from Hillary Clinton to return to Burma after a two-decade absence as reward for reforms
Groups to travel from Rangoon and Mandalay to support aid effort as Hillary Clinton urges government to allow access to refugees
Mikhail Myasnikovich arrives to great pomp in Naypyidaw on the invitation of President Thein Sein, with trade high on the agenda